---
BLW/ZosaTrains Presents The PRR Passenger Equipment Pack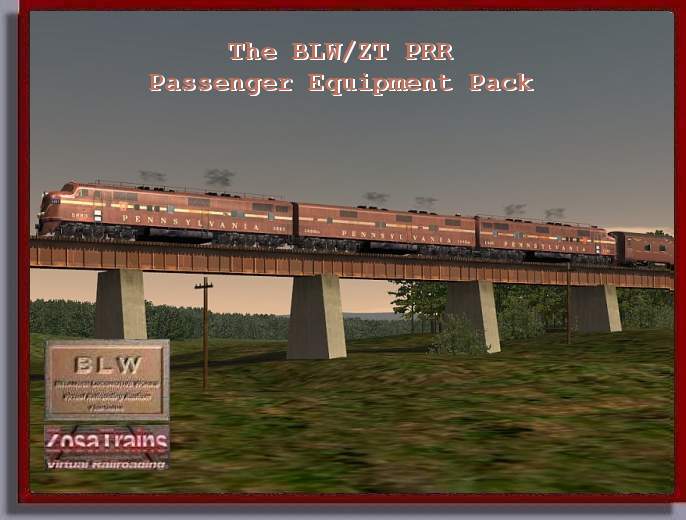 Belanger Locomotive Works and ZosaTrains are proud to announce the Pennsylvania Railroad Passenger Equipment Pack.


This pack represents three eras of PRR passenger service on three routes. Every effort has been made to accurately model these cars and locomotives, including specific PRR features (train line radio antennas, detached number boards, flat pilots, etc.)

Special thanks to the folks at www.railfonts.com for the excellent Pennsylvania font.



Included in the set, 3 sets of cab unit diesels

Alco PA - A-B-A set in Tuscan red 5 stripe scheme

EMD E7 - A-B-A set in Tuscan red single stripe scheme

EMD E8 - A-A set in Tuscan red simplified single stripe scheme



The passenger fleet:

Late 1930s - mid 1940s "Fleet of Modernism"

These cars, painted in the Raymond Loewy designed two-tone red/pin stripe scheme were found predominantly behind GG-1s in electrified territory and K-4 pacifics in non-electrified territory. The BLW/ZT version depicts an accurate 1942 consist for the Washington, DC to Chicago "Liberty Limited" with cars from Pullman and ACF:

Baggage Combine
18 roomette City of Elizabeth
18 roomette City of Altoona
12-5 Mystic Brook
4-4-2 Imperial Terrace
13 Dbl Allegheny County
Diner #4507
3-1 Lounge Colonial Congress
13 Dbl Lancaster County
12-5 Morrow Brook
18 roomette City of Johnstown
Obs Washington View


Late 1940s - mid 1950s standard fleet

These cars were the most prevalent in the PRR postwar era into the Penn Central days. The paint scheme is solid Tuscan red with gold striping. The BLW/ZT version depicts an accurate 1949 consist for the New York to Chicago "Broadway Limited" with cars from Pullman and ACF:

Baggage Combine
4-4-2 Imperial Lea
21 roomette Zanesville Inn
21 roomette Xenia Inn
12-4 Conewago Creek
4-4-2 Imperial Ridge
5dbl-Lnge Harbor Rest
Diner #4602
Kitch-Dorm #4603
4-4-2 Imperial Peak
10-6 Lehigh Rapids
10-6 Little Miami Rapids
10-6 Tippecanoe Rapids
10-6 Raccoon Rapids
2-1 lnge obs Mountain View



Mid 1950s - Budd stainless fleet

The PRR purchased sixty new streamlined cars from the Budd Company in 1952. The cars were used on the "Congressional" and also on "The Senator", a Boston - Washington "limited" that was shared with the New Haven Railroad. These handsome stainless-steel cars with Tuscan red trim were assembled into train sets of coaches, parlor cars, dinning cars and squared-ended observation cars.

To pull these "signature" trains the PRR painted six of its GG1 locomotives Tuscan red with the famous gold leaf pin stripes in 1952. The GG1s selected were numbers 4908 through 4913. Later, four more (numbers 4856, 4857, 4876 and 4929) were given the same Tuscan red livery. On the New Haven, these trains would have been hauled by EP-3, EP-4 or EP-5 electrics to New Haven, then Alco DL-109s, PAs or FM C-liners to Boston. The BLW/ZT version depicts an accurate 1955 consist for the Washington, DC to Boston "Senator":

1592 60-Seat Coach
1593 60-Seat Coach
1594 60-Seat Coach
1595 60-Seat Coach
1596 60-Seat Coach
1156 18-Seat Lunch Counter Bar 21-Seat Tavern Lounge Car
1597 60-Seat Coach
1598 60-Seat Coach
1599 60-Seat Coach
4526 48-Seat Dining Car
7141 PAUL REVERE 29-Seat Parlor Car with 5-Seat Parlor Drawing Room
7145 BETSY ROSS 29-Seat Parlor Car with 5-Seat Parlor Drawing Room
7144 NATHAN HALE 29-Seat Parlor Car with 5-Seat Parlor Drawing Room
7127 MARTHA WASHINGTON 14-Seat Parlor Telephone Room Buffet 25-Seat Lounge Observation



We hope you enjoy this set. We certainly enjoyed researching and producing it for you!

Gaetan and Rick



BLW © 2008

ZosaTrains © 2008
"ALSO INCLUDED Setup updated install file for the buyer of the Alco Sound Pack"
+
BONUS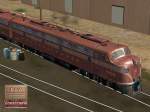 ONLY $17.99 USD!!
*******IMPORTANT ******
To immediately obtain your Login & Password for DL, you must click the

button on PayPal's payment confirmation page at the end of your transaction
*** DO NOT LOG OUT FROM PAYPAL, JUST CLICK THIS BUTTON ***
If you bypass that step just send me an email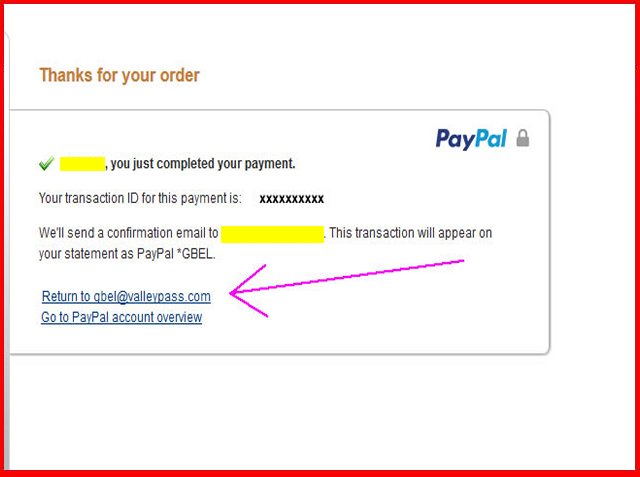 ***********************************************************
ONLY $17.99 USD!!


The Packs is available by download Only.
You can contact us at
Click the thumbnails below to see BLW/ZosaTrains production equipment !!
All screen shots by Rail Sim Images and were taken on VSC's A&O Sub
---
---
BLW ©
2008 Belanger Locomotive Works & ZosaTrains ALL RIGHTS RESERVED
---