---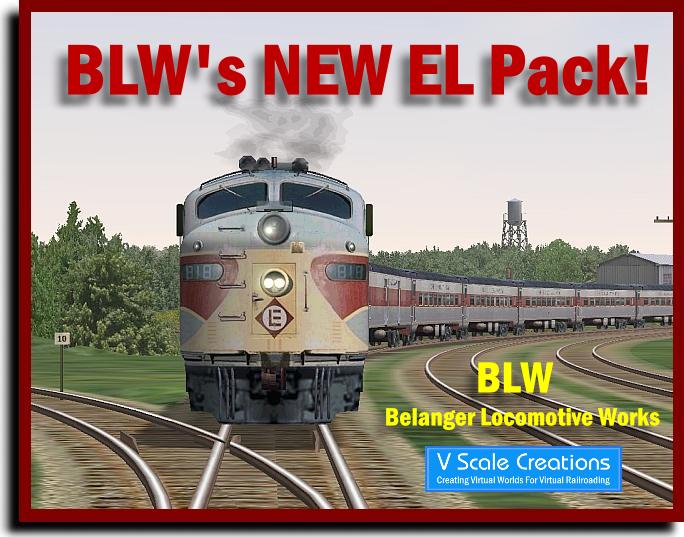 ---
FROM BLW and VSC... THE ERIE-LACKAWANNA Equipment PACK!
The equipment of the beloved Erie-Lackawanna lives again in the world of MSTS! Hard working engines trying their best to pull the "Erie-Lackamoney" into the black financially!
Once more, through the efforts of Belanger Locomotive Works, V Scale Creations is proud to offer you a pack of Erie-Lackawanna equipment. The EL Pack features several of the EL's power, including an FA1, FB1, and a reversed FA1 to be used in the trailing position. Also included is a pair of RS2's (one in the handsome black scheme, and reversed to boot!), a C425 and C425 reversed, an S2 and an S2 reversed, a PA1, PB1 (fictional), and PA1 reversed, 3 EL hoppers and a EL caboose! As with the LNE Pack set, the FA's have the ALL NEW FA photo-realistic CABVIEW! BUT... there's something NEW for the RS2: A high resoluton V cab! (Accessed by pressing the 5 key.)
But wait... that's not all!
Also included is an entire PHOEBE SNOW passenger train! Included in the Phoebe Snow set is an E8A, an E8B (fictional), and an E8A reversed. (With cab and sound!) The passenger cars include a baggage, coach, diner, sleeper, and palor car with an inside view! Now, through that magic of MSTS, you can relive the days of the Phoebe Snow!
Gaetan just keeps raising his personal standards higher and higher, and in VSC's estimation, this pack offers some of the most realistic looking equipment available for MSTS.
---
ONLY $18.99 USD!!
---
Click the thumbnails below to see production equipment examples!! (All screen shots by Rail Sim Images and were taken on VSC's A&O Sub.) BLW © 2007 Belanger Locomotive Work ALL RIGHTS RESERVED